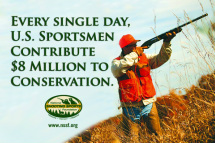 Saturday's most asked question at the Washington State Fair: "I don't understand... How can you be conservationists and have all these dead animals on display? You are hunters?!"

If we don't answer that question... If we don't INSPIRE that question, who will? HSUS? PETA? The Sierra Club? The Center for Biological Diversity? Public School Teachers?

We, sportsmen & women, the same segment of society that funds over 75% of the budgets of the 50 state conservation agencies, allow anti-hunters and non-hunters who have only heard from the other side to control the wildlife conservation narrative. All the truthful, accurate information is out there, but for some reason the sporting community is virtually asleep at the wheel.

WWC is changing that in the state of Washington. But we cannot continue to do it without your active participation. The future of hunting needs you. WWC is your organization, it needs you. Get in the game, give something back, volunteer to work a shift at one of our "beyond the choir" public outreach events. It's fun, it's family oriented and it is essential to our outdoor future. If not you, who?