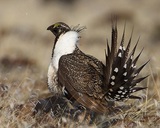 Sage grouse are being considered for federal protection under the ESA. This article makes the case that states are better positioned to conserve the species and their habitat than the federal government. Thoughts?
Rescue sage grouse with proven practices, not federal mandate
Missoulian.com
July 23, 2014 8:00 am •
By CARL GRAHAM and BRIAN SEASHOLES
Listing the sage grouse under the Endangered Species Act "would be the worst thing for it," said Greg Sheehan, director of the Utah Division of Wildlife Resources. "It would all but do away with any of the conservation that is in place." States have taken the lead in conserving the grouse but are concerned their efforts will be snuffed out by Endangered Species Act mandates if listing occurs. "We can probably do a better job with our local programs and partnerships than Fish and Wildlife can trying to regulate from afar," according to Colorado Gov. John Hickenlooper.

The 11 Western states where sage grouse rangelands are found are, in partnership with local governments and landowners, best positioned to conserve the species and habitat for three reasons.